Modern bathrooms are key to upgrading and renovating your old, worn out bathroom. Developing a Modern bathroom essentially means creating something clean, contemporary and timeless. Here are tips to incorporate into your Eltham Bathroom Renovation if you are aiming for a Modern Bathroom and an upgrade.
Begin with a Simple Base
Starting with a simple base is the first step to enforcing modernity into your bathroom. Start simple, and then you will be able to lead on to a variant of another style with accessories and decorations. Creating a simple and clean base begins with choosing your wall colour, tile shape and colour, and just the overall layout of your Bathroom. Essentially you want to create something simple. This is done by using plain base colours like white and grey, and simple textures, either matte or reflective surfaces. Adding a variety of textures can come late in the process of your Eltham Bathroom Renovation, during the process of choosing your bathtub, toilet, shower etc.
Even within this process, simplicity is key, think clean vanity bench tops like marble, concrete, or even just plain white or grey ceramic. Something a little more creative and more curated yet still modern is using more natural textures like wooden surfaces, within the bench tops and also storage.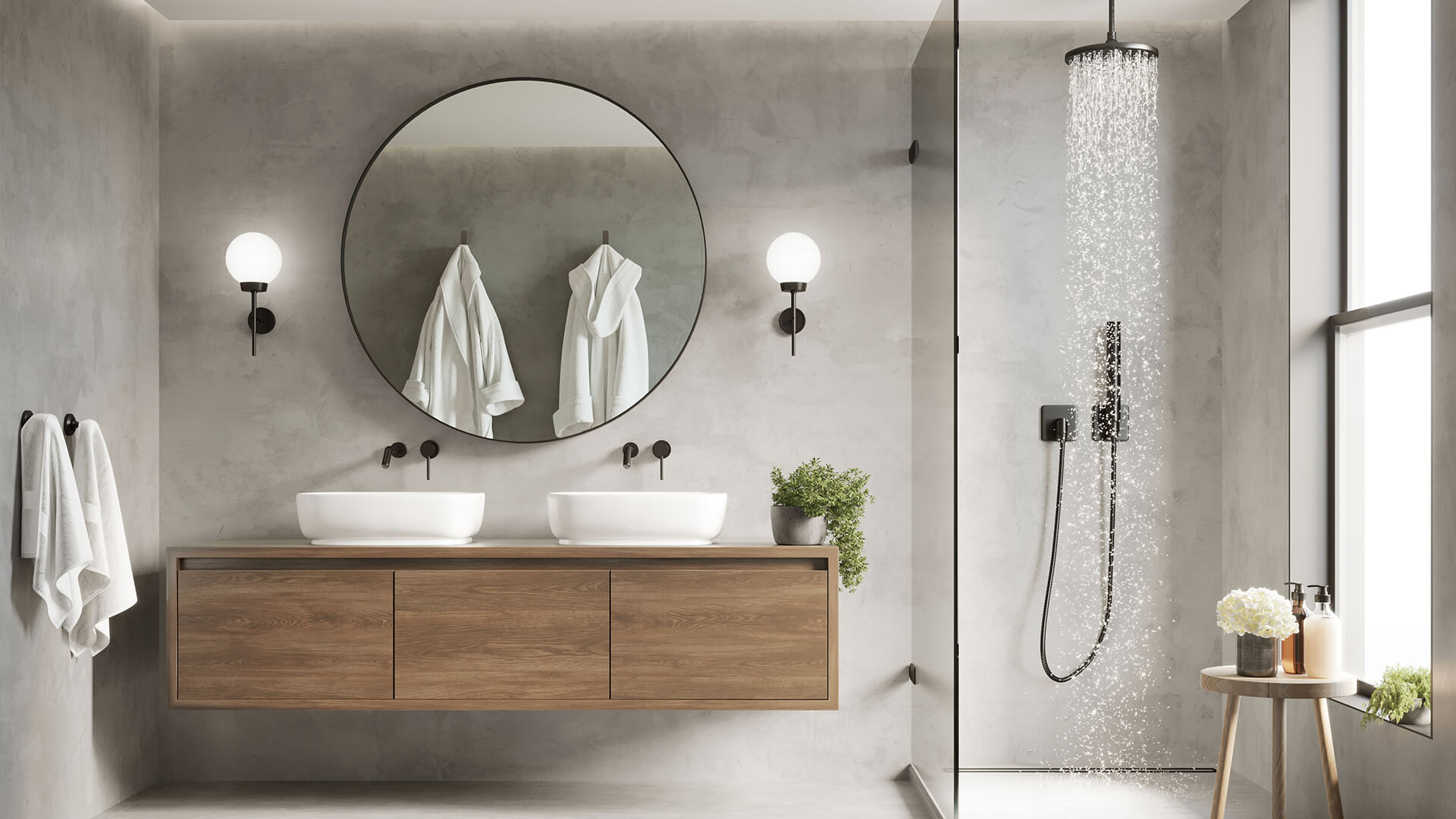 Install Walk-In Showers
Walk in showers are coming strongly into trend within the modern style of Bathrooms. When planning your Eltham Bathroom Renovation, consider installing a Walk-in Shower. It's essentially a shower that consists of a glass panel or shower curtain in the corner of the room. With the floor slightly slanted to allow the water to drain. If you have the right water protection around the tiling, a barrier around the floor of the shower isn't necessary.
The reason for this, it is about simplicity. Especially using a single glass panel to create a third wall around the shower allows for a gorgeous, simple and chic bathroom layout. It is easy on the eyes and prevents the bathroom from looking cluttered. Another tip within the shower is to install a large overhead shower head onto the ceiling. This creates balance and a sense of symmetry, and again prevents the bathroom from looking too cluttered.
Swap out your Old Accents for Chrome, Copper or Gold
Choosing an accent colour or texture for your bathroom is Essential in achieving modernity. You can use classy and modern tones like Gold or Copper. Matte Black Chrome especially creates modernity. Make sure to include the tone all throughout the bathroom. Use it on your taps and faucets, the shower head and even the towel racks. Focusing on continuity rather than variety will allow you to achieve your modern look. You can also carry that tone onto other parts of your bathroom. Throw in a black rug, or a black framed mirror. Yet since the faucets will be a metallic material, don't over do the metallic. Keep it in those main areas, and then opt for a different texture in the other areas of the bathroom. Again, maybe you use some natural tones. Bring in some plant pots, some wooden baskets.
Install a Free standing Bath in your Eltham Bathroom Renovation
Think about shape when you design your Eltham Bathroom Renovation. You want a variety of shapes, yet all with smooth, easy looking edges. Adding a standing bathroom will upgrade the modernity of your bathroom greatly. Not only does it give the illusion of more space since there is more floor room, but it also looks creates a chic look. Ditch the bathtub feet though, choose a bath that sits directly on the floor. We need simple shapes and not to much cluttering.
Don't Forget to Include Colour in your Bathroom
When people think of modernity, often times they will over look colour. There is no need to simplify your Eltham Bathroom bathroom design so much you can't include colour. It is all about balance and choosing the right colour palette. You could choose a statement wall with one bold colour, and then work around that. When thinking modernity, it is best to go with primary, bold colours. Choosing more dulled, muted colours can lead to a more classic, stylised theme which will draw away from the goal of Modernity.  You should also spread the colour subtly around the bathroom, in a vase, in your towels and bathmats etc.